BOOKING OFF APPOINTMENTS, SERVICES AND EVENTS

The feature rich and flexible appointment booking platform with incredible benefits for all types of salons, all types of clinics, hotels, organizers of various events…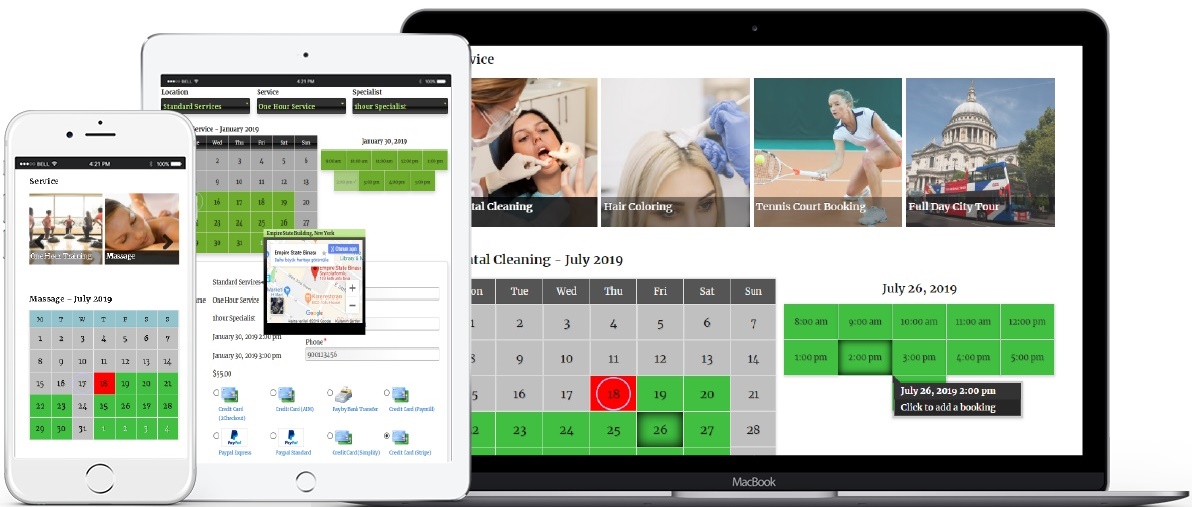 Booking of Appointments and Services platform is a complete solution to accept appointments and schedule based bookings on your website.
With this platform, your clients can make an appointment based on your available times, if set so, pay full price or deposit of the cost, edit and cancel their appointment by themselves without the need for your intervention. You and/or your employees can also add a new appointment or make corrections on an existing one.
Platform has been developed to cover all functions related to make an appointment from a person in the first place, however, it can also be used to book resources (technical material, equipment, etc), locations (meeting or function rooms, etc), vehicles with driver (hourly or daily tour, airport transfer, etc), or shared facilities (Tennis court, barbeque pit, etc).
On our demo website you can view and actually use some of the possible applications.
Our platform is perfect for
Salon & Beauty
Hair Salons, Nail Salon, Hair Braiding, Tanning Salons, Makeup Artist, Tattoo Studios
Health & Wellness
Wellness, Spa, Massage Therapist, Acupuncture, physiotherapy, Nutritionist
Fitness & Recreation
Healthclubs & Gyms, Personal Trainers, Clubs, Yoga Lessons, Dance Instructors, Dog trainer
Private clinics
Doctors, Dentists, Chiropractors, Opticians, Dermatologist, Plastic Surgeon
Education
Colleges & Universities, Schools, Tutoring, Language Teacher
Government
Government Offices, Volunteer, Social Work, Human Services, Scheduling
Professional Services
Attorneys, Tax Consultants, Photography Studios, Business Coaching, Driving Schools
Other Services
Pet Walkers, Day Care Centres, Hot Air Balloon Rides, Whale Watching, City Tours, Interview Scheduling ...
No appointment booking platform in the market as easy and rich in features as Brank Booking Platform. An incredible number of options for intuitive booking with the extra earnings for all platform users. A selection of Locations, Services and Service Providers; Coupons, Credits, Packages, Custom Pricing, Group Booking, Extras, Shopping Carts, Payment Gateways, Variable Service Durations, Quotas, Waiting Lists….
You can see a description of these and some other features below:
allows you define unlimited number of locations (shop, room, city of service, etc.) and relate services to them.
If the company has salons (clinics, fitness centers, spas, clinics, etc. …) in several locations, the client chooses at which location he wants to receive the service. All locations can have exactly the same services, prices, opening hours, offer additional items, but they can also have different services, different prices for the same service, different duration of the same service, different opening hours…. It is logical that they have different staff, but one and the same employee can work for example 3 days a week (or 5 hours a day) in one location and another 3 days a week (or 3 hours a day) in another location.
A description can be added for each location (Location name, photo, general information, links …)
You can check all this on our demo page by looking at the "Location" , you will see examples for "SALON1", "SALON2" and "HOTEL" .

In "Locations" in the main menu you can see a description of the locations .
For each service, the standard elements are Name, Location at which the service can be obtained, Category to which the service belongs (Massages, Depilation, Facial cosmetics …), Duration, Time required to prepare (before or after commencement) service, Price stated services and Service description.
In addition to these standard elements, there are many additional various options that can enriched services, can be added various additional services and products, offered in many ways, etc. … All for the purpose of animating clients to easily order and spend more. Some of the additional elements are listed below:
For each Service Providert is set the first and last name, the name the client sees, what services he / she provides, if it is a specialist whose services are more expensive, how much his / her service is more expensive (a fixed amount for each service), working hours (working days and working hours are set), public holidays, religious holidays, vacation days, seasonal hours, shifts).
For each therapist can be set his bio data (name, surname, photo, experience, skills, etc …) on platform, visible for clients.
Service Providers can to manage their own appointments:
Have Public Profile
Manage their Services
Manage their own appointments
Cancel Own Appointments
Manage their Rates
Manage Holidays
Manage Schedule
Additional various options for Services:
CATALOG is a unique way of Booking of Appointments, Services and Events and presenting salons, clinics, hotel services, etc. …For each service, the client sees a description, sees the staff performing the service, can see bio data from the staff, can book directly from the service, and can select a specific Service Provider and make a booking from his site.
The catalog consists of three elements: Our Services, Our Staff and Our Materials.
You can view the demo for each of these three elements directly by clicking on the pictures below, as well as from the menu located on each of these pages.
Client Appointment Booking
Booking is very simple: The client chooses a location, chooses what kind of service he wants, chooses the therapist he wants, chooses a date, and time, after that checks the details and does a checkout.
He sees Confirmation with all the information on the screen, and at the same time receives a confirmation on his email.
Watch the video.
Each staff member has his or her own command panel to see and manage all his / her meetings.
He/She can change, edit, cancel etc. all his appointments, he can change the appearance of his the calendar, set his own working hours, holidays etc. …
In the images below, you can see two elements from the Staff Panel: the reservation table and the part for changing elements for one Appintment. Please, click to enlarge.
Each Client has his or her own command panel to see and manage all his / her meetings.
He/She can cancel and edit all his appointments, he can change the personal data …
In the images below, you can see two elements from the Client Panel: the reservation table and the part for changing personal data. Please, click to enlarge.

The administrator (business owner) has the ability to change the layout of the calendar (letter color, field color for various situations ...) by changing "Thema". There are 25 different themas available. An admin can allow a client to independently change the appearance of a calendar on his screen. That way, the client has the design they like best.
Events Booking is the powerful, features rich, easy to use Events Registration extension . It allows you to create events(both free and paid), allows registrants to register for these events(Individual, Group registration or Shopping cart) and process payment via online payment gateways.
With this plugin you can create a calendar of all the events that take place in your facilities: seminars, conferences, celebrations, concerts … whether they are free or paid.
By clicking on an event that is marked in the calendar for a specific date, you see all the details of the event and reserves seats, buys tickets, etc. ..